3D Animation Courses in Lahore:
3D animation course is the use of computer graphics for making 3D objects. Baabroz offers the best 3d animation courses in Lahore. The animation is not only about drawing comic strips or making cartoons, but it is also somehow related to the recreation of fantasies of our society and bringing everything around us to your life. By having sharp expertise and the precise training, you will have a high paying career and you will be able to work in:
Animation studios
Gaming companies
Advertising agencies
Film production companies
Following lessons are offered by our institution during the whole term of this 3d animation courses in Lahore:
History of Animation
Design
Lighting
Modeling
Surfacing
Visual effects
Previsualization
Life drawing
Rigging
Pre-production
Composition
Sculpture
Advanced animations
Digital sculpture
Baabroz courses on 3D Animation will help you build up your skills and make a professional work portfolio. Our institution works under the latest technologies and this course provides a thorough knowledge of the ground rules and highly developed techniques of 2D and 3D animation.
After having completed grip on this course you will be able to build your career as:
3D Animator
3D Modeler Rigging
Artist Texturing
Artist Lighting
Rendering Artist
Compositor Illustrator Storyboard Artist
Video Editor Graphic Designer
3D Modeling:
This institution is providing training in all features of 3D character designing and animation; from pre-production to production to post-production. Practical training on industrious techniques such as 2D digital animation, 3D motion graphics, and crowd simulation is also given.  Complete guidance to develop your professional portfolio and 100% job appointment is also assured. Join the Baabroz Animation course and make a successful career in 3D animations and filmmaking.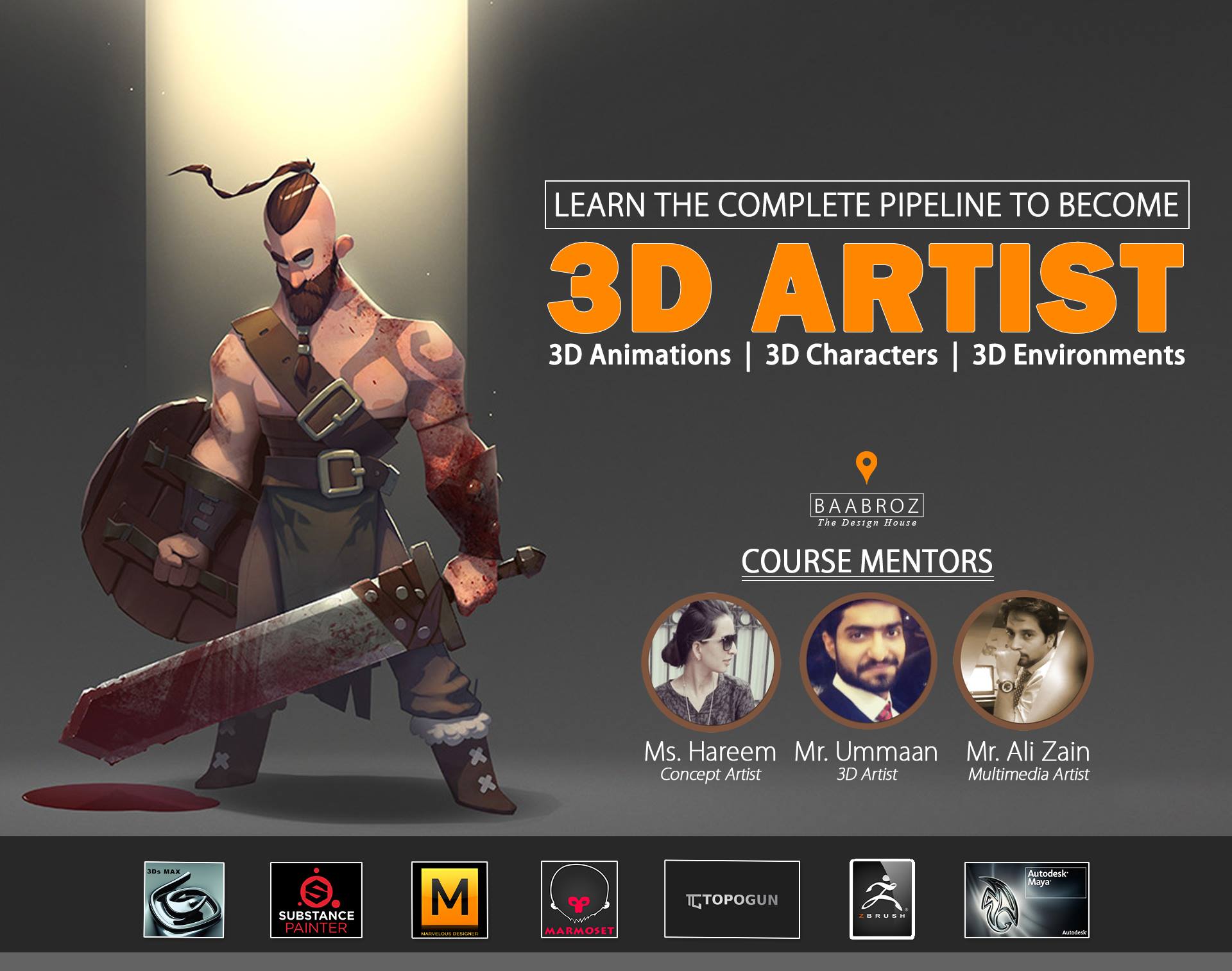 The course organizes you for high-paying professional options in film making, creating TV shows, computer and mobile games, websites, media, and other exciting industries and make you a dynamic part of this industry. This course will make you able to use several 3D animation maker tools:
Topo Gun
Substance painter
Marmoset
OpenToonz
3D Max Course in Lahore:
You can become a proficient 3D Max expert after availing of our 3D Max courses in Lahore, Pakistan. This course is suitable for all those personals who want to make a career in animation and graphics.  This 3D Max course in Lahore will take the students through material creation, animations, object modeling, cameras, and many other fields. There is a huge demand for 3D Max in App development and gaming industries.  It would also be very interesting and useful for interior and exterior designs. Anyone can get enrolled in this course but especially:
Students of fine arts, digital designers could get easily enrolled in this course and it would be really beneficial for you
Already working graphic designers can get a chance to learn more advanced tools of 3D Max
Employees of software houses will be able to polish their skills
Advertisers can make use of advanced digital designing tools to promote their services
Anyone who wants a proper certification of the 3D Max course to enhance their professional resume should get enrolled in this course.
3D Max Animation:
The course services include a complete understanding of the basics of 3D Max animations, and then training will be given to students to enhance their abilities. Our trainee will provide you with the best field related practices of designing principally focusing on 3D Max. From this course, you will learn new ways of developing and creative skills and a complete understanding of a wide range of 3D Max design methods. Furthermore, it includes a combination of photography and camera and 3D animations for the creation of new and diverse designs. This 3D Max course will be done under the following course outlines:
3D Max interface
Files and object manipulation in 3D Max)
Concepts of transformation in 3D Max
Applying modifiers
Poly Modeling
Understanding shapes ( basic shape creation in 3D Max and their editing)\
Compound objects
Modeling technique
Data linking and importing (AUTOCAD)
Standard materials in 3D Max
Using Maps in 3D Max
Mapping texture
Lighting
Cameras (Integration of camera and photography with 3D Max)
Vray render engine
Keyframe animation
Rendering
Download Course Outline:
For more details and updates follow our Facebook page and Instagram Page.
If you want to know about the best animation studio of the world follow this site screenrant.com